Impact Resistant MgO Shaft Liner and Lifts wallpanels
| | |
| --- | --- |
| Zahlungsart: | L/C,T/T |
| Terms of Trade: | FOB,CFR,CIF,EXW |
| Minimum der Bestellmenge: | 390 Piece/Pieces |
| Lieferzeit: | 21 Tage |

| | |
| --- | --- |
| Verpakung: | 1.Strong plywood pallet 2.Strapped with PET rope 3.Protect corner & edges 4.PE film covered on the 6 surfaces |
| Produktivität: | 150,000pcs per month |
| Marke: | Support OEM |
| Transport: | Ocean,Land |
| Ort Von Zukunft: | China |
| Versorgungsmaterial-Fähigkeit: | 150,000pcs per month |
| Zertifikate : | ISO14001 ISO9001 |
| HS-Code: | 6811899 681182 |
| Hafen: | Qingdao,Tianjin,Shanghai |
Produktbeschreibung
Design flexibility
Compared to cinderblock elevator shafts,mgo shaft provides more flexibility in the design with integrated insulation, and factory manufactured options.
Strength
Design values equal to and greater then common alternatives. No grout to shrink and crack during fire.
Savings
One Day vs Four Weeks on the job site. Reduce specialized trades on the job site.
Weather resistance
MgO board can withstand exposure to moisture during normal construction delays.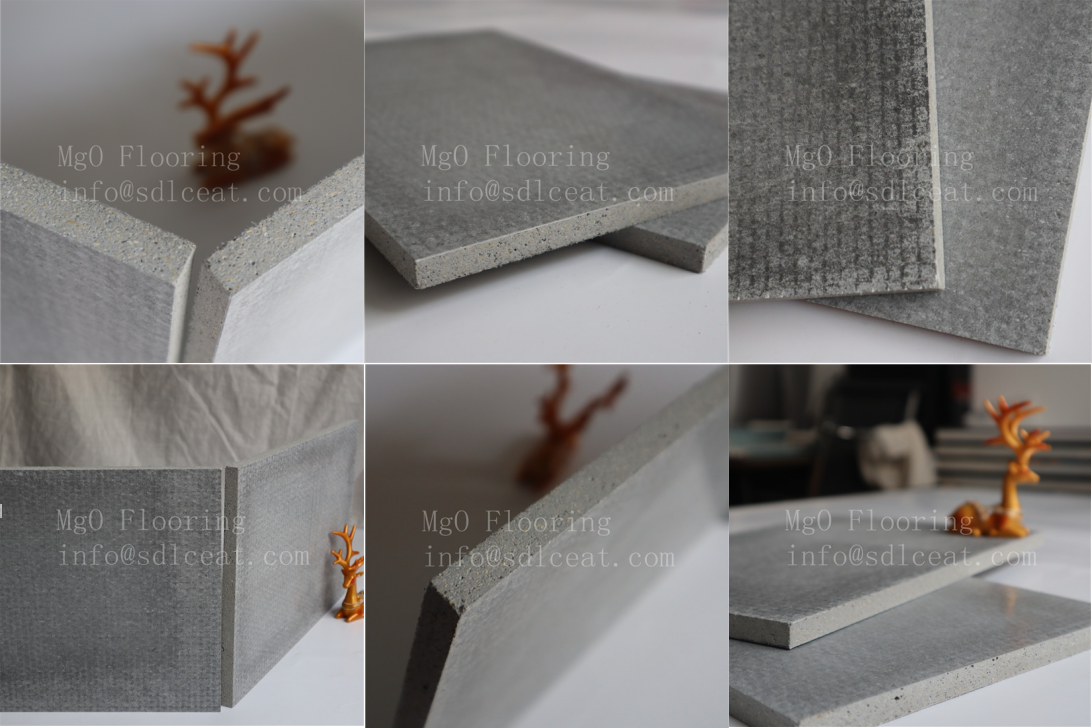 Product name

Magnesium Oxychloride Board 1220*2440*16mm (W*L*TH)

Testing items

Test method

Specs

Density

GB/T 33544-2017

1.15g/cm3

Bending strength

15Mpa

Screw holding force

103N/mm

Water absorption

≤10%

Moisture content

3.60%

Leachable chloride content

2.30%

Thickness expansion rate of water absorption

<0.1%

Thickness deviation

<0.3mm

Length deviation

<1mm

Width error

<1mm

Diagonal error

<2mm
WHAT IS MAGNESIUM OXIDE BOARD?
Magnesium Oxide (MGO) Board is a mineral based green building product superior to all other sheathing products.
MgO board is harder and stronger than drywall, and it is resistant to fire, insects, mold, mildew, and rot. It is sound and impact resistant, and has good insulating characteristics. It's noncombustible and non-toxic, has a receptive bonding surface, and contains no dangerous toxins like some other building materials. One exciting characteristic about MgO board is that it's lightweight while still being very, very strong. Therefore, a smaller amount of MgO board can do the same job (or better) as a greater amount of another material, such as sheetrock. And don't forget, because MgO board is so moisture-resistant, it lasts a very long time. The Great Wall of China is a perfect example of that!
MgO panel can be sawed, drilled, router-shaped, scored and snapped, nailed, and painted. It's many uses in the construction field include fireproof materials for ceilings and walls in every type of construction including apartment complexes, theaters, airports, hospitals, and much more.
This amazingly versatile product also happens to be very green (environmentally friendly – not the color green). It has no ammonia, formaldehyde, benzene, silica, or asbestos, and it is completely safe for humans. It's a natural product that can be completely recycled, so it leaves a very small carbon footprint, and has no negative impact on landfills.
MgO panel is available in a variety of sizes and thicknesses, it comes in a choice of basic colors and textures, and there are different grades and strengths to choose from, depending on the application. Because it is so hard, there is no need to place joints on a stud. And because it is so stiff, thin boards can be used in place of thicker boards of another material.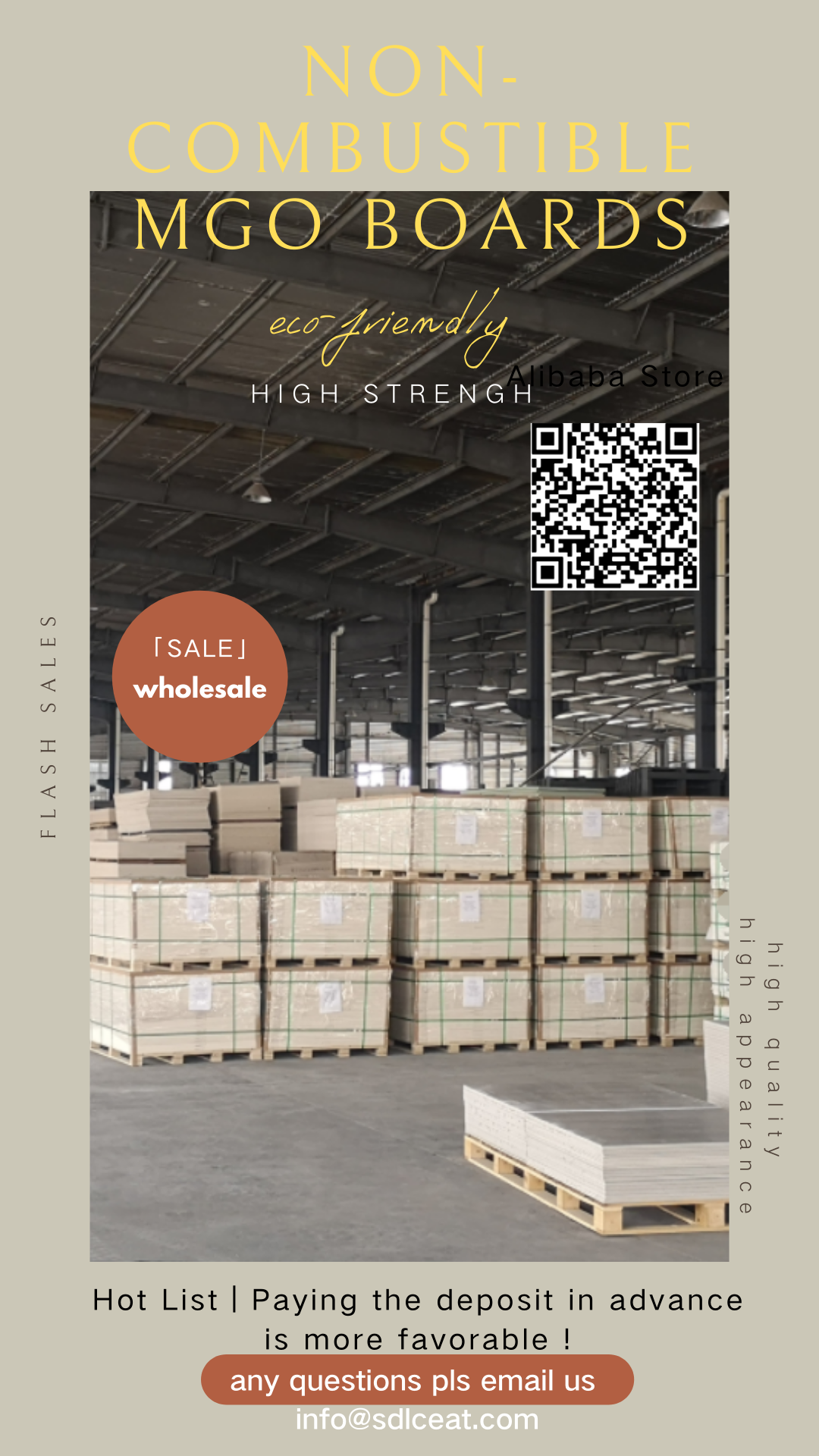 ADVANTAGES OF MGO BOARD
Environmental: MgO is not harmful to the environment and can be disposed of through any traditional garbage. This reduces dumping fees associated with gypsum board removal.
Non-Toxic and Mold/Mildew Resistant: Contains no V.O.C.'s helping to create a healthy living environment. Due to varying climates, disaster, and flooding mold and mildew is a common issue homeowners face. MgO is resistant to mold or mildew and does not feed mildew or mold as it contains no organic materials.
Fire Resistant: MgO aggressively exceeds all fire testing requirements and achieves zero smoke/flame spread.
High strength: Impact-resistant, shearing and overall strength.
Water Resistant: MgO offers superior resistance to moisture versus traditional products on the market. Traditional products such as gypsum board, OSB, and plywood absorb water and moisture resulting in mold or expansion causing damage.
Wide application: Bathroom partitions, roofing application, suspended ceiling, raised floor, cubicles, exterior sheathing, interior sheathing, cabinets, fire barrier, etc.
Cost: Reduced cost and installation time over conventional methods such as double 5/8" drywall for multifamily dwelling applications can be reduced to a single sheet of our MgO board.
Quality Control:The factory is ISO Certified to ensure consistent quality. This includes quality control in product receiving, in process manufacturing and final inspections.
Tools and materials you'll need:
Standard screwing drill
Standard health and safety gear
Track saw
Self-drilling, countersunk, slotted-head screws
Hand drill for pre-drilling frame
Standard saw
Retractable knife
Benefits of Magnesium Oxide board wall with a wood-batten or metal stud:
Simple and easy to install
Magnesiumoxide board is lightweight, strong and impact resistant
fire-resistant sheet material
Save drying time; screws instead of adhesives
Does not deform when it comes into contact with water

• It is the responsibility of the builder to ensure that the product meets aesthetic requirements before installation.
• Ensure that all boards are stored under cover and kept dry. If boards become wet they must be dried prior to installation.
• Our Factory will not be responsible for rectifying obvious aesthetic surface variations following installation.
• Carry boards in the vertical position as this will avoid bending and possible breakage.
• MGO Premium boards must be stored flat on a smooth surface. Precaution should be taken that edges and corners.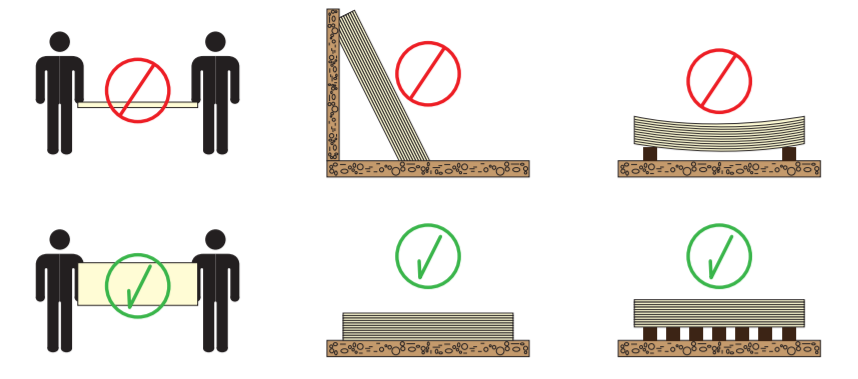 The research institute laboratory is responsible for the company's raw material entry inspection, product process inspection, product delivery inspection, new product research and development experiments, verification and testing. 
The laboratory can perform apparent density, flexural strength, impact strength, moisture content, dry shrinkage, swelling rate, screw holding force, water absorption, softening coefficient, embrittlement coefficient, dry warpage rate, free chloride ion, resistance Testing of items such as halogen return, thermal conductivity, compressive strength, etc.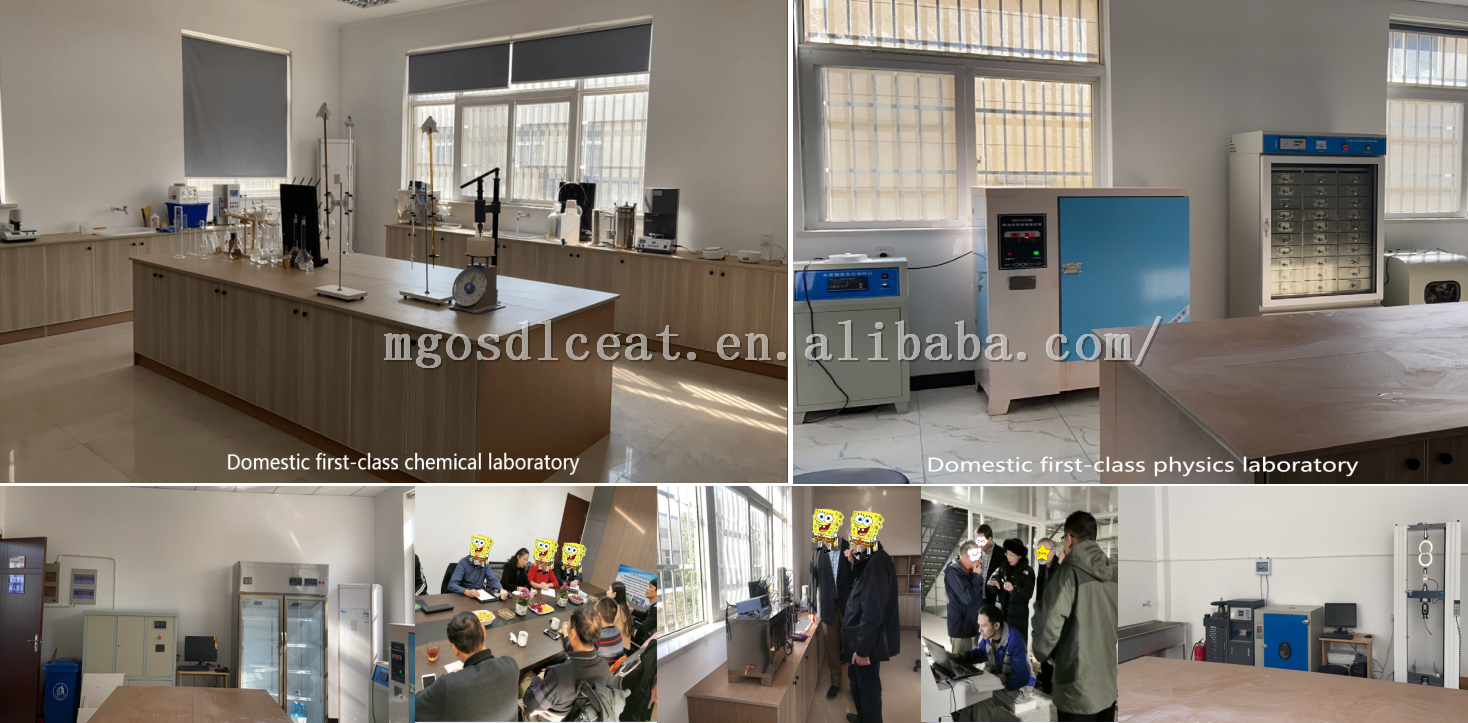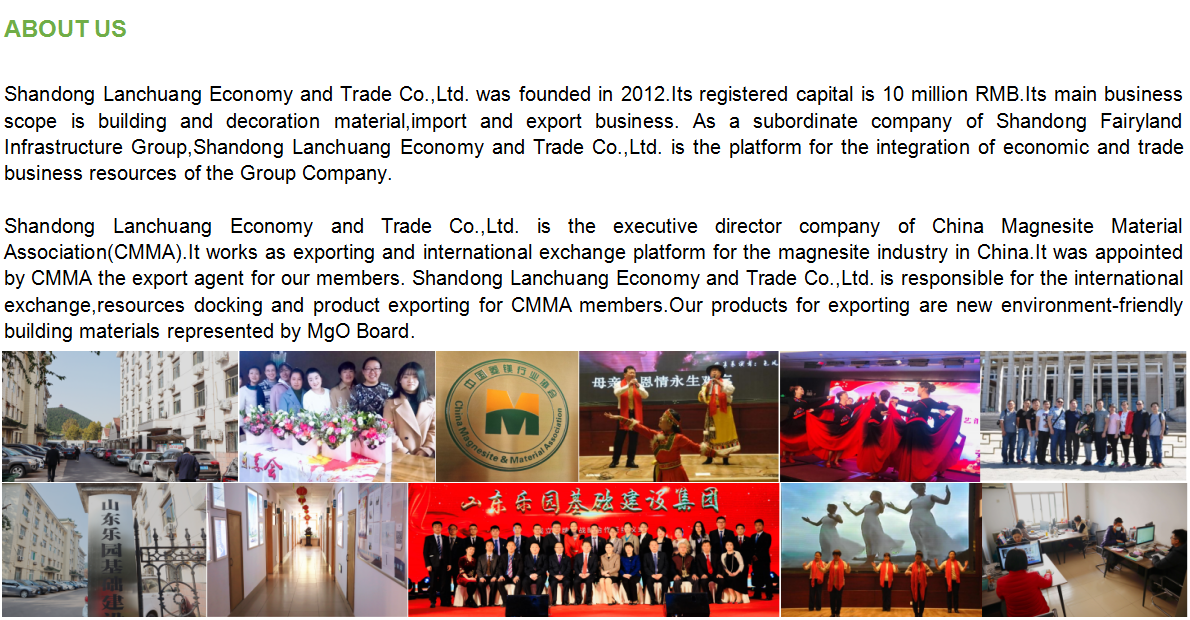 China Magnesite Material Association(CMMA) is a national first-level association approved by the Ministry of Civil Affairs and established under the operational guidance of relevant ministries and commissions.Business Scope: Industry Management, Information Exchange, Business Training, Journal Editor, Professional Exhibition, International Cooperation, Consulting Services etc.CMMA Members are the national magnesia material production enterprises, the products enterprises with magnesia material as raw materials, the related materials production, equipment manufacturing, product circulation, users, scientific research institutes, design units, experts and scholars engaged in magnesite research and development.

Shangdong Lanchuang Economy and Trade Co.,Ltd.
Shandong Lanchuang Economy & Trade Co., Ltd. wurde 2012 gegründet. Wir konzentrieren uns auf das Geschäft mit MgO-Boards. Wir sind der Exportagent der China Magnesite & Material Association und der Einkäufer der Magnesium Oxide Cement Association (MOCA). Wir sind ein Mitgliedsunternehmen der Shandong Fairyland Infrastructure Group. Handong Fairyland Infrastructure Group Co., Ltd. hat eine 27-jährige Geschichte im Immobilienentwicklungsgeschäft.
Shandong Lanchuang Wirtschaft und Handel Co., Ltd. ist das Exekutivunternehmen der China Magnesite Materials Association (CMMA). Es fungiert als Export- und internationale Austauschplattform für die Magnesitindustrie in China. Es wurde von CMMA zum Exportagenten für unsere Mitglieder ernannt. Shandong Lanchuang Wirtschaft und Handel Co., Ltd. ist verantwortlich für den internationalen Austausch, das Andocken von Ressourcen und den Produktexport für CMMA-Mitglieder. Unsere Produkte für den Export sind neue umweltfreundliche Baumaterialien, die von MGO BOARD vertreten werden.
In den letzten Jahren hat Shandong Lanchuang unsere CMMA-Mitglieder organisiert, um die Auslandsmärkte in den USA, Kanada, Australien, Deutschland, Schweden und Japan zu untersuchen, und war mit den Regierungen, Partnerverbänden, Forschungsinstituten und Importunternehmen in diesen Bereichen verbunden. Derzeit hat Lanchuang gute Wirtschafts- und Handelskontakte mit den USA, Kanada, Australien, Japan und Deutschland geknüpft und die Produkte in einige der oben genannten Regionen exportiert. Es hat ein hohes Ansehen erlangt und wurde von nationalen und internationalen Kreisen weithin gelobt.
Als Mitglied der Shandong Fairyland Infrastructure Group, Shandong Lanchuang Economy und Trade Co., Ltd. ist die Plattform für die Integration von Wirtschafts- und Handelsgeschäftsressourcen des Konzernunternehmens. Seit seiner Gründung hält das Unternehmen an der Geschäftsphilosophie fest, seinen Kunden einen kontinuierlichen, qualitativ hochwertigen Service und hochwertige Informationen zu bieten, und an unserem aufrichtigen Unternehmensgeist Engagement, Pragmatismus und Innovation.
Name der Firma: Shangdong Lanchuang Economy and Trade Co.,Ltd.
Vertreter: Xiaojing Yang
Produkt / Dienstleistung: MgO Außenwandplatte , MgO Innenwandplatte , MgO Deckenplatte , MgO-Bodenbelag , MgO-Dekorplatte , MgO Board
Kapital: 10,000,000RMB
Jahr Errichtet: 2012
Absatzmenge des Jahres (in Mio. US $): Below US$1 Million
Exportanteil: 91% - 100%
Jährliche Kaufvolumen (Millionen US $): Below US$1 Million
Zahl der Fertigungslinien: 1
Zahl der Mannschaft der R&D: 5 -10 People
Zahl der Mannschaft der QC: 5 -10 People
OEM Dienstleistungen verbieten: yes
Größe der Fabrik (Sq.meters):: 30,000-50,000 square meters
Ort der Fabrik: Jiangsu Province,China
Ansprechpartner: Ms. Amy Zhang
Telefonnummer: +86-0531-85188790